Every American has the right to free speech under the First Amendment. That's why Cornerstone Law Firm is glad to announce that our clients, three students in the Oley Valley School District, have had their voices heard in their recently settled lawsuit.
We worked with the students to bring a lawsuit against Oley Valley School District for violating their First Amendment rights. The case has now settled for $5,000 for the students plus attorneys' fees and expungement of the discipline resulting from their school board speech.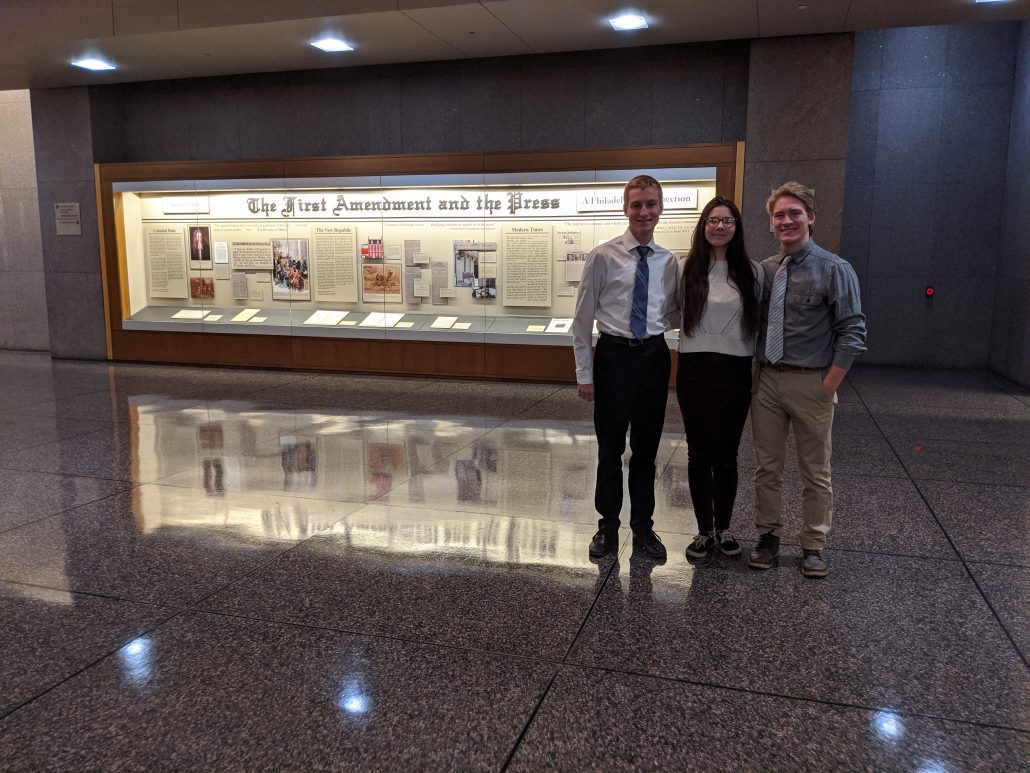 What Happened
Jordan Eck, Haley Hartline and Vinny Ferrizzi were disciplined for speaking at a school board meeting last March, where they expressed concerns about the way the drama program was being run. Within 24 hours of speaking to the school board, two of the students were suspended and removed from the school play, and less than two weeks later, the third was removed from school property in front of his classmates. Various excuses for this retaliation were offered throughout the lawsuit, but upon production of surveillance footage demonstrating the pretextual nature of these excuses, the parties finally agreed to settle.
The monetary settlement reimburses the students' families for the expense of litigation and will be paid by the school district's insurance carrier. The settlement also includes compensation for Jordan for the defamation of his character by the drama program director in a series of emails to the parents of other students in the drama program, as well as others in the community. All three students will receive compensation from the district's insurance carrier for the violation of their rights to free speech.
What They Have to Say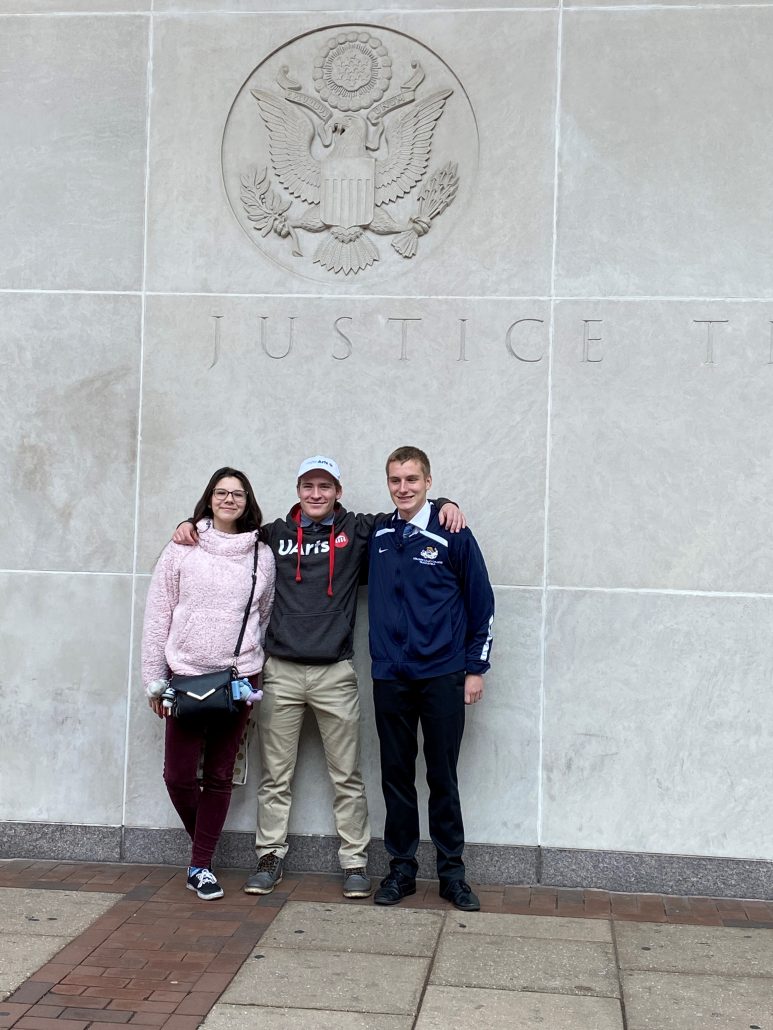 The students expressed their relief that the case is over. "This is a victory for our First Amendment rights, and for the rights of other students to speak freely without fear of retribution," said Eck after the settlement was reached.
"It shouldn't have taken a federal lawsuit to force the School District to respect our right to speak," said Hartline.
Ferrizzi agrees: "We wanted an apology, but it's clear that this will have to do. This is vindication."
"The First Amendment was written to protect us; but sometimes, we have to protect the First Amendment," said Cornerstone Law Firm's Joel Ready, the students' attorney. "When government officials, however major or minor, seek to punish citizens for their speech, it is imperative that we stand up against that."
Attorney Ready believes the lawsuit has bigger implications beyond these three students, and beyond Oley Valley:
"This case would have created a chilling effect on other students right to speak up, and I hope the message is loud and clear: as a student, you're allowed to respectfully express your opinion to those in power, even if your opinion is unpopular."
How it Started
The case began when Cornerstone Law Firm reached out to the School Board on behalf of the students, demanding that their discipline be expunged. The School Board refused reverse the punishments, necessitating rising costs, and ultimately, this settlement. Attorney Ready says he expects this case will have a positive impact on the School District:
"My clients hope this will cause the Oley Valley School Board to take definite steps to train their employees about protecting students' rights. The Supreme Court says that students do not shed their constitutional rights at the schoolhouse gates. That is especially true when students speak to school board members—their elected representatives."
Various messages of both support and opposition have been received on social media by the students, but Eck explains, "From the beginning, we understood that was part of it. We just want every student to be able to speak freely, just like we did." Ready agrees.
"I'm proud of these three students," he said. "They've shown courage in the community, sometimes in the face of misinformation intentionally spread about them. They've shown Oley Valley how important free speech really is." The Court issued a "Rule 41 Order" last week, and the students and district signed a final agreement today.
Student Statement Posted on Social Media Today
The three students released posts on social media today. The post is as follows: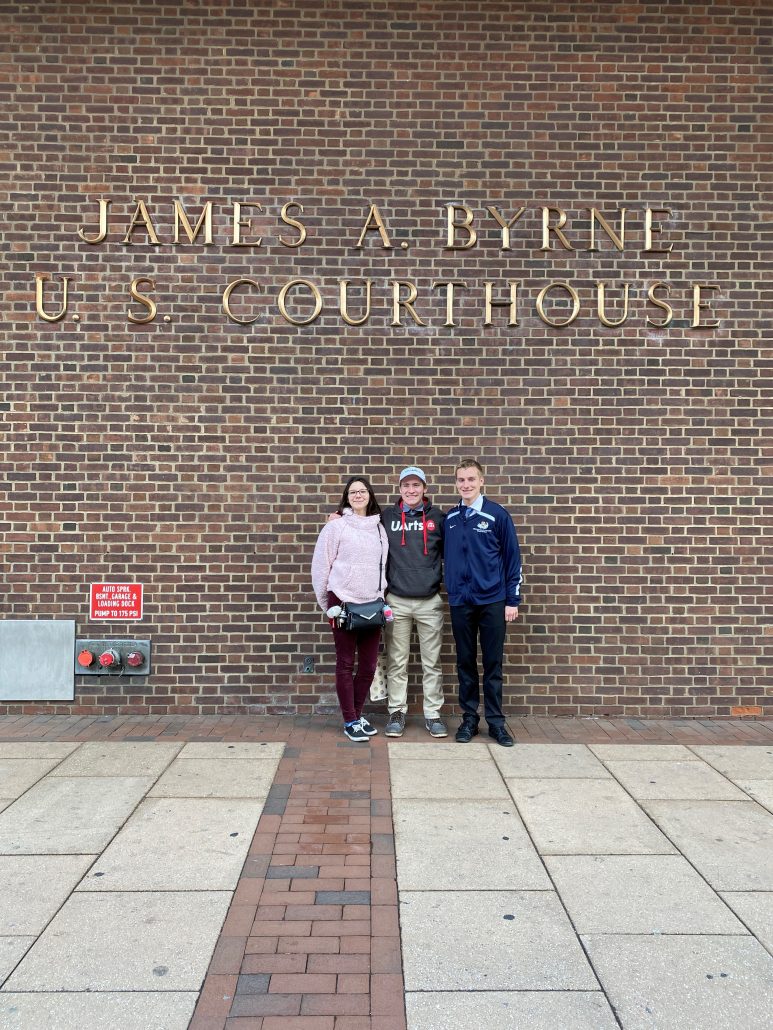 "We were each disciplined by OVSD last year after we spoke at a school board meeting and expressed concerns about the individual overseeing the drama program. While anyone has a right to agree or disagree with what we said, no one had a right to blast out an email to the community defaming Jordan, claiming he "posted something against another student" such that the "police were called in" to deal with him. No one had a right to suspend Jordan and Haley and remove them from the school show for their speeches that night, and no one had a right to have Vinny escorted off of school property in front of our classmates. These actions were hurtful, and were done to retaliate against us for speaking an unpopular opinion to our elected officials.
As of this week, our disciplinary records related to this incident will be expunged, Jordan will be retroactively restored to his role as drama club President, and we will receive $100,000, which will be paid by the school district's insurance carrier—not by taxpayers. Most of this is merely to reimburse us the cost of bringing a federal suit. A nominal amount will pay for Jordan's defamation claim, and all three of us will receive a small amount for the violation of our right to free speech.
The expense and stress of this lawsuit should have been unnecessary. Last March, Joel Ready, our attorney at Cornerstone Law Firm, sent a letter to the School District demanding that this matter be resolved by expunging discipline related to this incident, and that a small amount be paid to cover the attorneys' fees we had incurred up till then. The School District preferred to fight about this instead, and finally was forced to settle on the eve of trial.
It's really important to the three of us that all of our classmates hear this message loud and clear: no one can silence you just because you are a student. You're a citizen of the United States, and when you speak as we did—calmly, respectfully, in the forum set up for public comment—the government and its officials do not have the right to retaliate against you.
We hope this case will give other students courage to speak up for themselves, and to speak against what they see as wrong. We're grateful for those of you who have supported us along the way, and to those of you who haven't, we hope you'll keep all of this in consideration with an open mind and continue to dialogue with us. That's what the First Amendment is all about."
Contact Us
If you're dealing with an infringement on your First Amendment rights, call us today to discuss your case.
https://cornerstonelaw.us/wp-content/uploads/2020/02/OVSD-Case-3-scaled.jpg
1536
2048
Cornerstone Law Firm
https://cornerstonelaw.us/wp-content/uploads/2017/06/cornerstone-law-black-300x109.png
Cornerstone Law Firm
2020-02-04 19:48:23
2020-02-04 20:06:31
Oley Valley Students Settle First Amendment Lawsuit