Personal Injury Lawyers in Reading, Pennsylvania – 610-926-7875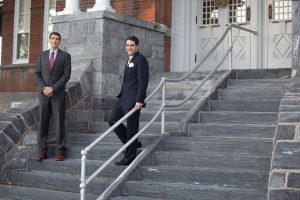 If you're looking for a personal injury lawyer in Reading, Pennsylvania or in Berks County, you've come to the right place. Our personal injury attorneys offer personalized, caring service to address your needs after an injury. Whether you've been injured in a car crash or motorcycle accident, or in a home or store, you may be entitled to compensation for your injuries. Our injury attorneys handle the legal difficulties so you can focus on getting better medically. Our personal injury lawyers can help by compromising medical bills and liens, negotiating with an insurance company adjuster and considering who may be liable for your injuries.
Cornerstone Law Firm is in Reading, Berks County, but we help clients from all throughout Pennsylvania to obtain compensation for their injuries. Our personal injury attorneys have represented clients with broken bones, broken ribs, clients who have been paralyzed, and family members of victims of wrongful death. Our attorneys have won million-dollar-plus settlements, and we're ready to help you, too.
What kind of Personal Injuries can Cornerstone Law Firm handle?
The personal injury lawyers at the Cornerstone Law Firm handle injury claims involving:
car accidents and motor vehicle wrecks
bus accidents and truck accidents
motorcycle accidents, and crashes where a motorcycle is hit by a car or truck
defective products
bicycle collisions and bike accidents of all kinds
assault and battery
wrongful death of a loved one
rear-ended by a truck and other vehicle accidents
and much more.
These are just a sample of the types of injury cases that our injury lawyers have experience with. If you've been injured in an accident of any kind, or by the careless or intentional wrongdoing of someone else, contact us to discuss your options, free of charge.
Contact Us for a Free Consultation
Our personal injury lawyers care. They can meet with you here in our Berks County office for a free consultation to assess the value of your case. If you retain us, our lawyers gather evidence to support a stronger claim for damages, and make a demand on the insurance adjuster. If this demand is rejected, our trial attorneys stand ready to file suit anywhere in Pennsylvania, and will go to trial to vindicate your rights, regardless of whether the accident took place here in Berks County, or somewhere else in Pennsylvania. Car accidents and other causes of personal injury can be painful, and can leave permanent physical problems. You should be compensated for the suffering you've endured, and for the value of your ongoing treatment and the disruption to your life.
If you've been injured, contact us for a free consultation. We don't get paid until you get paid. Call 610-926-7875 today.