Lawyers dedicated to providing justice in Reading, Berks County, and beyond.
The cornerstone is the rock upon which a whole structure is built. If it's out of line, the building will be also. If it is weak, the foundation will not hold. In the same way, law undergirds the morals and processes of society.
Hiring an attorney is wise, as it brings someone into the process who is knowledgeable and experienced in the options available to you. If you've been charged with a DUI, call the Cornerstone Law Firm today, and ask how we can help.
At Cornerstone Law, we seek to provide affordable access to an attorney in Reading, Allentown and beyond. Call today, and let us know how we can help you grow your business, defend your personal assets from lawsuits, and so much more.
Cornerstone Law Firm, LLC is a general practice law firm located in beautiful Berks County, Pennsylvania. Together our attorneys bring decades of legal experience across a wide range of practice areas. We are passionate about helping individuals, families, and businesses with their legal problems. Contact us for help with your legal problem.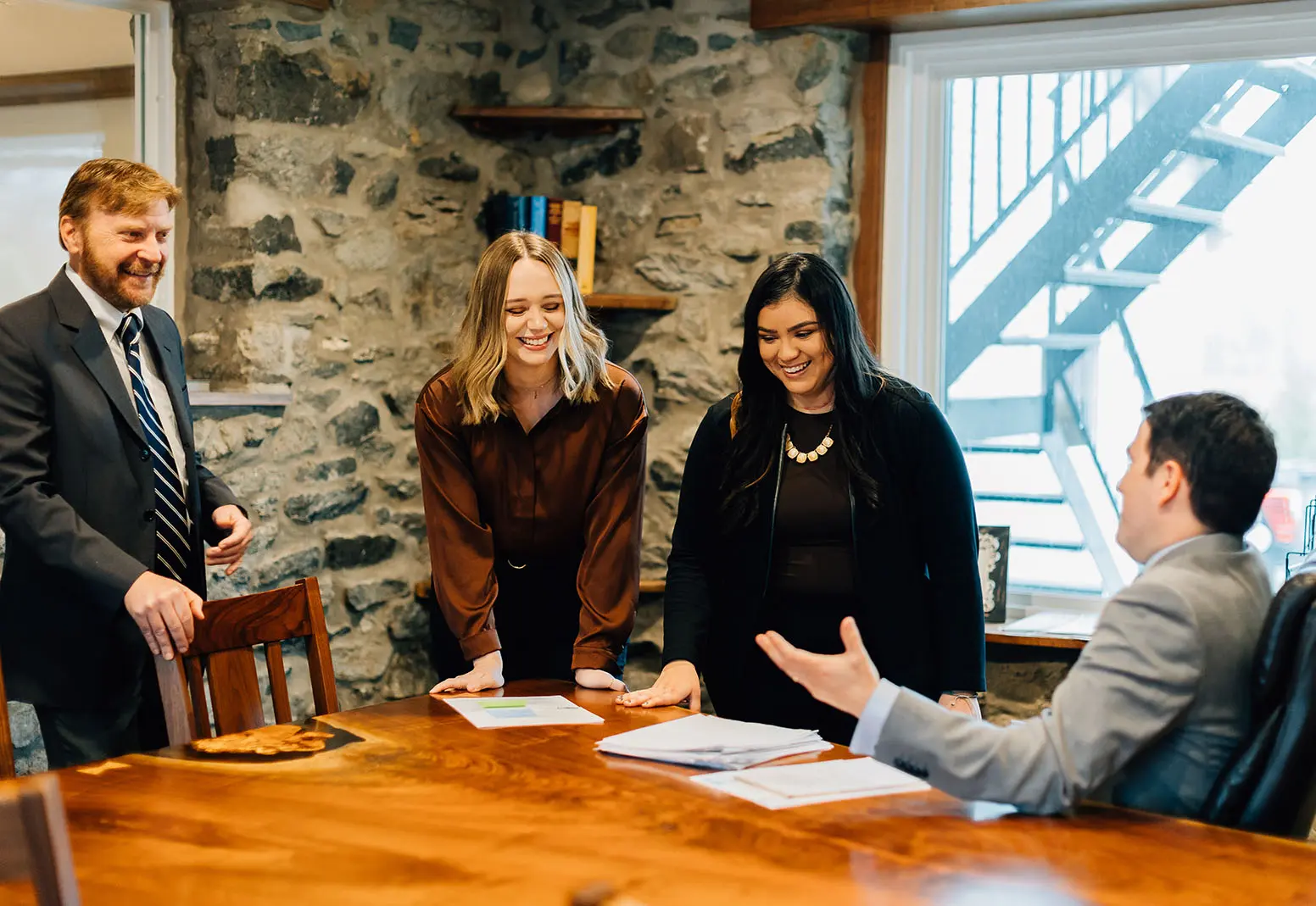 What Cornerstone Can Do For You
The attorneys at Cornerstone Law Firm can help you with more than just winning cases or filing lawsuits. For example…
And so much more! Having a Cornerstone attorney means that you will have someone who will provide you with legal counsel and who will guide you through the complicated or difficult legal processes you are facing. You will have someone on your side who will fight for your rights and work to get the best outcome for your case. Don't get bogged down by complicated processes or overwhelmed by the stress of your situation—Call Cornerstone Law Firm today.

Cornerstone was great! Joel Ready really cared about us and our case!

Eric Winter is a cannon! He knows his stuff! Won a case with him today! Hopefully I never have another case to fight but if I do Eric Winter is the one you want!

Attorney Federica Caloia represented us in a civil matter in Berks County and we were very satisfied with her legal services! She openly communicated with us and answered all our questions/concerns throughout the whole litigation process.
La abogado Caloia fue excelente representante en un caso civil en el condado de Berks.

Stephanie D. Rauch-Mannino, Esquire, recently helped my husband and I get our Estate Planning documents completed. Stephanie was friendly, knowledgeable, and very helpful. She made me feel welcome and comfortable. My husband and I were very pleased. I would recommend Cornerstone Law Firm and will definitely consider them for future use.

Professional and knowledgeable. I feel confident in my decision to call Cornerstone Law Firm to help me with probate questions after my brother passed away. I won't hesitate to call them again if I need a lawyer for any reason.

I worked with Attorney Joel Ready on a sensitive case; he was responsive, and very helpful. Everybody that I dealt with or spoke to was very professional, respectful, and polite. They did a great job and locked up my case in a few short months. I highly recommend them and if I ever need something in the future I will return to them.

I recently had some counsel from Joel Ready of Cornerstone Law Firm that provided professional and legal assistance to me in a time of need. I can attest to the intelligence but also the compassion that they have for those in need and having both of those attributes together is often a very rare aspect. I truly appreciate Joel and Cornerstone Law Firm!

Cornerstone Law Firm was with me every step of the way during my case. Very Professional. I would highly recommend this Law Firm to others!

Cornerstone Law Firm helped me set up my LLC. Mr. Ready answered all my questions and provided great advice. Thank you for helping me establish my business with ease.

We're so glad to have Cornerstone as a partner of ours. They're super responsive, very transparent, and extremely knowledgeable in all things legal. They've been quite helpful to our company in helping with several transactions. It's unusual in this day and age to have attorneys that we also call friends. Keep up the good work!

I contacted a few attorneys about assisting me with the probate and Estate process after my mother passed. Joel was very responsive and personable. He identified options and considerations that were not mentioned by the other attorneys. I truly felt he was working in my best interest. I chose to work with him and will definitely be using him for my own estate planning in the future.