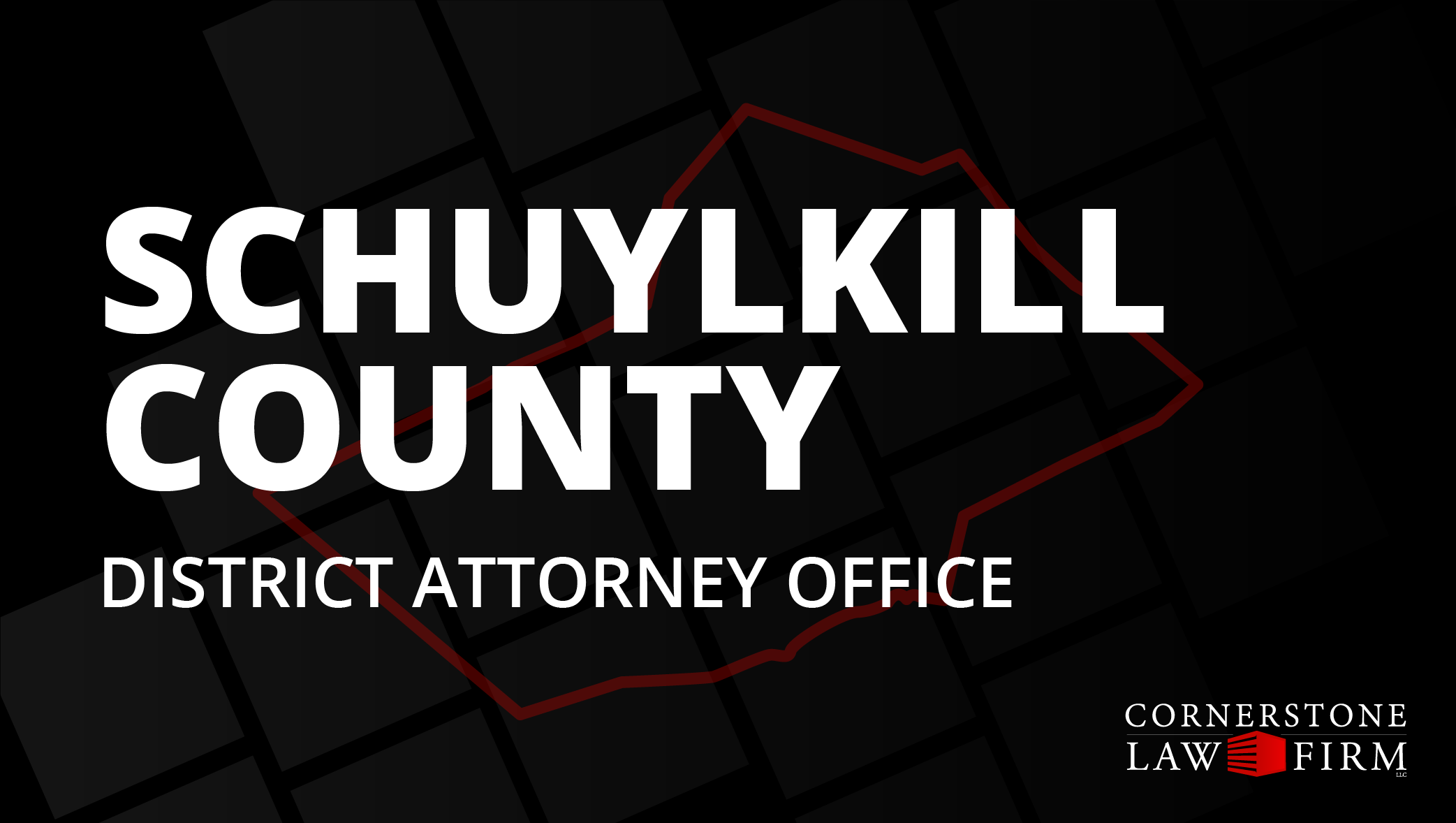 Schuylkill County District Attorney Office
Schuylkill County, Pennsylvania
Michael O'Pake, elected in 2017
A District Attorney is a lawyer who is elected or chosen by local government officials to represent the state government in criminal cases brought in a designated county or judicial district. Their usual responsibilities include evaluating police arrest reports, determining the validity of criminal charges brought against arrested people, and prosecuting criminal cases in court.
Assistant District Attorneys:
First Assistant Michael J. Stine
Senior Deputy Jennifer Foose
Thomas Campion
Thomas Pellish
Andrew Serina
David Noon
Julie Werdt
Eric Leiberman
William Reiley
Shelby Hostetter
District Attorney:
Michael O'Pake
401 North Second Street,
Pottsville, PA 17901 
Phone: 570-628-1350
Fax: 570-628-1010
Hours: Monday – Friday
8:30 a.m. – 4:30 p.m.
Accelerated Rehabilitative Disposition Programs (ARD)
Defendants who wish to avoid prison time and permanent charges on their record may apply to be accepted into the Accelerated Rehabilitative Disposition Programs (ARD). Those applying for the program must be first-time offenders. The application is filed with the District Attorney's Office, and the case is subsequently heard at a Status Conference. The initial decision to recommend a case for ARD lies solely with the prosecutor who has wide discretion to recommend or not recommend a particular case for the program. The qualifications for acceptance into these programs are based on statutory law found in Title 75 Pa.C.S.A. Section 3807. The general guidelines of this statute are the focused on non-violent offenses. Defendants who miss their scheduled Status Conference may be issued a bench warrant and rejected from the ARD program.
Bench Warrants
Defendants that fail to appear at their required court hearings may be issued a bench warrant. These absences may occur due to an unnoted change in address in which the court mistakenly will issue documents to an incorrect address. Defendants may also be inclined to miss their court date if they have breached the conditions of their parole. After the bench warrant is issued, the person may be arrested for their absence.
Restrictive Conditions of Probation (RCP)
The District Attorney's Office also oversees the Schuylkill County Restrictive Conditions of Probation Program, also known as RCP. Those who may be placed into this program cannot have any prior history of violent behavior. This program serves both the community and the guilty party as this process lessens the problem of overcrowded prisons, and the fees which accompany this proceeding are the responsibility of the convicted party. The guilty parties may be placed within inpatient treatment facilities that monitor the person on a full time or part time basis. They may also be subjected to heavily restricted movement including electronic monitoring or home confinement.
Schuylkill County Restrictive Intermediate Program (SCRIP)
This program formed by the Schuylkill County Adult Probation/Parole Department (APO) and the Schuylkill County Drug and Alcohol Program serves as a middle ground between prison time and parole/probation for those accused of non-violent crimes with no prior history of violent behavior. Participants involved in the program must be subjected to advanced monitoring during which they are taking part in drug and alcohol treatment. This includes electronic ankle monitors that are paid for by the criminal and attending AA or NA meetings. If the applicant is admitted to the program the APO will produce recommendations that are then given to the Judge during the sentencing phase of the applicant's court proceedings. The Judge may or may not choose to follow the recommendations compiled by the APO.
A criminal defense attorney can help you sort through the many complex legal doctrines that will affect your case and help you understand your rights. Call the attorneys at Cornerstone Law Firm today and let us help you handle your charges.