Motorcycle Crash Attorneys in Reading, Berks County, Pennsylvania – 610-926-7875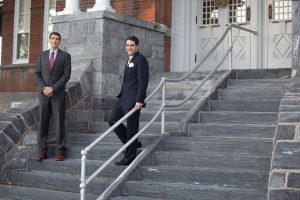 If you've been in a motorcycle crash in Berks County, Pennsylvania, the personal injury lawyers at Cornerstone Law Firm can help you. In Reading, our traffic is notoriously bad, and riders know that careless drivers can change a life in a moment.
Injuries from a motorcycle accident can be devastating. They can take years to recover from and can cost hundreds of thousands of dollars. When facing mounting medical bills, motorcycle accident victims often report feeling helpless or afraid for their family. If you were hit on a motorcycle by another driver, you should know that you have a right to be compensated by that driver's insurance company, and also by your own. Our motorcycle accident attorneys help those injured in the Reading, Pennsylvania area to navigate the insurance claim process.
A good motorcycle accident attorney can help you by negotiating for a better settlement with the insurance company, negotiating medical liens and medical bills, and gathering evidence to support your claim. Our motorcycle injury lawyers have the experience to know what matters when it comes to supporting your claim for maximum compensation under the law.
Who is liable for your injuries?
Car crashes and motorcycle accidents can present complicated situations in which one or more other people are liable for your injuries. These drivers' insurance companies are liable to you. And don't forget, you also have an insurance policy that may provide payment for your injuries on top of what the other drivers owe you.
Sometimes insurance companies quickly offer to pay what's fair for your injuries. Often they do not. Having a Reading motorcycle accident attorney on your side means having the experience to know whether an offer is reasonable or not. It means having someone to threaten to sue—and to carry out that threat if necessary—in order to bring about a better offer.
Conclusion: Call for a Free Consultation
When you're injured in a motorcycle accident, your injuries can be time-consuming and, of course, painful. At Cornerstone Law Firm, we help people get their lives back together, one piece at a time. We can help to negotiate the liens against you, and to recover money from those who caused the accident. We don't charge you anything until you recover from those responsible for your injuries. Call us today for a free consultation to discuss your options at 610-926-7875.