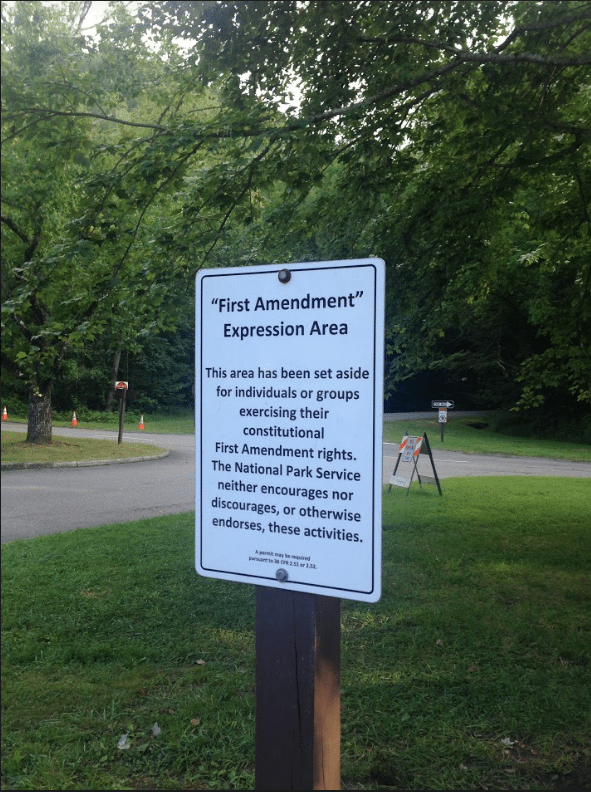 Last week, after observing signs in National Parks purporting to limit the exercise of the First Amendment, Attorney Joel Ready sent the following letter to Ryan Zinke, Secretary of the Department of Interior, and to Michael Reynolds, the director of the National Park Service.
Dear Sec. Zinke:
At the end of August, I honeymooned with my wife in the Smoky Mountains National Park. The Smokies are a sort of home away from home for my family. I spent many summer weeks there growing up, and of course, my wife and I now have wonderful memories of the park as well. The park has earned its place as the most visited park in America, with its lush beauty and unique wildlife. We had the opportunity to quietly observe two black bears while we were there, as well as to visit Clingman's Dome and Cades Cove, among other sites.
However, I write to let you know of a concern I had while visiting the Smokies. During our trip, we stopped at one of the visitors' centers,[1] where we were confronted by [the sign pictured above].
As you are probably aware, Mr. Secretary, the First Amendment cannot be confined to a small portion of government-owned ground. The First Amendment is designed to prevent the "abridgment" of speech, no matter where it occurs. Nowhere is this protection stronger than on government property. While the government is free to engage in reasonable "time, place and manner restrictions," such restrictions must be content-neutral, narrowly-tailored to advance a significant government interest, and leave open ample alternative channels of communication.[2] Parks are "quintessential public forums [where] the government may not prohibit all communicative activity."[3] I believe that no compelling government interest is at play here, and that these zones in front of visitors' centers[4] (making up only a fraction of a percent of the total park) do not constitute a "narrowly-tailored" solution in any event.
The Smoky Mountains National Park, like our nation, was born in the cauldron of political dissent and protest. When the federal government used the powers of eminent domain to seize the land in the 1920s and '30s, a number of evicted local families protested in different ways, including protesting FDR's speech in the park (which was, of course, full of political statements, as any Presidential speech would be).[5] Political speech in our national parks is a proud tradition, and the federal government has no place in attempting to curb speech by creating "zones" where it is acceptable or unacceptable to speak.
In our travels through the park, we encountered a number of violations of this sign, including Jehovah's Witnesses with displays who were handing out tracts about their faith, the National Park Service's signs throughout the park arguing for better environmental protection legislation and lauding past EPA efforts, and a small child protesting to her mother that she was done with her sack lunch (most of her sandwich was still uneaten). From the loftiest sentiments (those about religion) to the most trivial (private disputes between mother and child), all of these are speech protected by the First Amendment from government abridgment, and all of them are presumably prohibited by the sign at the visitors' centers.[6]
I have no reason to believe any enforcement action has been taken against groups or individuals based on these signs. Nor do I harbor any suspicion that you personally authorized these signs. Rather, like so many things, our liberties are slowly eroded by the well-meant actions of individuals attempting to prevent pesky protestors from marring natural beauty or causing disruption. But protests and political speech do not mar natural beauty as quickly as oppression. I hope you will not think I overstate my case with the word "oppression"—rather, the attempts of government to snip at the fringes of free speech are always the first signs of the erosion of natural liberty. The American people are free to speak and advocate for their beliefs on government property, and these signs should come down.
With great respect and appreciation, I write to request that you remove these signs from all National Parks and any other similar government-owned properties where they may be found.
[1]              The visitor's center we visited was Sugarlands Visitors' Centers, where we encountered very kind and helpful rangers and other workers.
[2]              The caselaw on this point is voluminous, but one example should suffice: Perry Educ. Ass'n v. Perry Local Educ. Ass'n, 460 U.S. 37, 45 (1983).
[3]              Id.
[4]              I was unable to ascertain whether these signs are present at all visitors' centers in the Smokies, or at all parks nationally, or whether this one visitors' center was an anomaly. I presume that they are present nationally, but my argument is not affected if this visitors' center is the only example.
[5]              Both silent footage and text of the speech survive. The footage can be viewed on youtube: https://www.youtube.com/watch?v=RnJbJbcr3jw. The text of the speech is also available: "Address at Dedication of Great Smoky Mountains National Park.," by Franklin D. Roosevelt, September 2, 1940. Online by Gerhard Peters and John T. Woolley, The American Presidency Project. http://www.presidency.ucsb.edu/ws/?pid=16002.
[6]              Political t-shirts, personal conversations, bumper stickers on cars and license plate messages, and "pillow talk" while camping under the stars are all presumably prohibited by the sign, as well.
https://cornerstonelaw.us/wp-content/uploads/2017/09/National-Park-sign.png
792
591
Cornerstone Law
https://cornerstonelaw.us/wp-content/uploads/2017/06/cornerstone-law-black-300x109.png
Cornerstone Law
2017-09-11 23:24:41
2019-01-14 20:26:23
National Park "First Amendment" Signs Should Come Down