If you've been served with a Writ of Summons in Schuylkill County, Pennsylvania or, in any other county in Pennsylvania for that matter, it's extremely important that you do not ignore it. A Writ of Summons is the beginning of a lawsuit, and it takes care of one of the most difficult and important parts of the process—serving the lawsuit.
In other words, as a Defendant, you're not going to get another notice about this lawsuit served through official means, such as a sheriff. From now on, everything you get is going to come through the mail. You don't want to risk receiving this mail while you're out of town, on vacation, or dealing with the other busy details of life that might keep you distracted.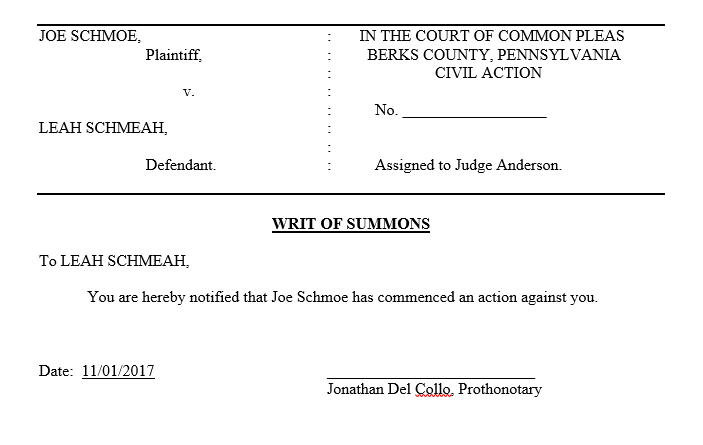 What to Do
When you're served with a Writ of Summons, the first thing to do is to immediately take action to insist that the Plaintiff file a Complaint substantiating their right to a lawsuit. Their failure to do so can result in a complete dismissal of the charges.
What happens if you don't know what the charges are based on? What happens if you don't even know the person suing you? Surprisingly, this happens to many defendants.
Regardless, you should still take action to force a Complaint right away. This gives you the chance to gather evidence, prepare your defense, and hopefully push the Plaintiff into a position where the case can be settled or dismissed.
Take Next Steps
The Writ of Summons is part of Pennsylvania's very complex Rules of Civil Procedure. Failure to abide by the Rules of Civil Procedure can result in very serious waivers of your rights. Contacting a civil litigation attorney is an important first step in the process. Litigation lawyers can help you figure out the rights steps to take in the process.
Contact us at the Cornerstone Law Firm today to discuss your Writ of Summons in Pennsylvania and to see how we can help you navigate the process.
https://cornerstonelaw.us/wp-content/uploads/2020/01/law-office-nik-macmillan-unsplash-scaled.jpg
1366
2048
Cornerstone Law Firm
https://cornerstonelaw.us/wp-content/uploads/2017/06/cornerstone-law-black-300x109.png
Cornerstone Law Firm
2020-02-12 05:57:00
2020-01-31 20:25:17
Why You Shouldn't Ignore a Writ of Summons