Personal Injury Lawyers – 610-926-7875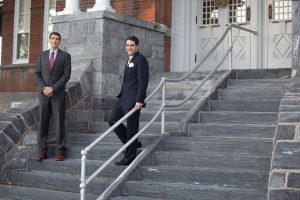 To injured clients, having a personal injury lawyer nearby is important. If you live in the Reading, Pennsylvania area, or in Berks County, the Cornerstone Law Firm's personal injury attorneys stand ready to assist you, whether your injury originally occurred in the Reading area or elsewhere. We offer a free consultation, and our firm doesn't get paid until you get paid. Our personal injury attorneys offer understanding, compassionate service to address your needs after an accident resulting in injury.
Is it important to have an attorney for an injury?
In finding an attorney, the biggest factor of all is finding someone you feel that you can trust, someone who listens to you, and someone who is aggressive and will fight for you. Our personal injury lawyers, David W. Crossett and Joel A. Ready, meet clients here at the Berks County office, and even offer video chats for clients further away. Our personal injury attorneys have experience in a broad range of cases, including handling cases involving:
car crashes
being rear-ended
head-on collissions
bus and truck accidents
bicycle accidents
intentional attacks, such as assault and battery
motorcycle crashes
product liability
wrongful death of a family member
and so much more.
These are just some of the injury cases that our attorneys have experience with here in Berks County and the surrounding area. If you've been injured in an accident of any kind, or by the careless or intentional wrongdoing of someone else, contact us to discuss your options, free of charge.
Contact Us for a Free Consultation
Our personal injury lawyers can meet with you here in our Berks County office for a free consultation to assess your case, or we can arrange to video chat with you or speak by phone. If you retain us, out injury lawyers gather evidence to support a stronger claim for damages, and make a demand on the insurance company. If this demand is rejected, our trial attorneys may assist you by filing suit, going to trial to vindicate your rights, regardless of whether the accident took place near us, or somewhere further away in Pennsylvania. Car accidents and other causes of personal injury can be painful, and can leave permanent physical problems. You should be compensated for your medical bills, but also for your pain and suffering.
If you've been injured, contact us for a free consultation. We don't get paid until you get paid. Call 610-926-7875 today.